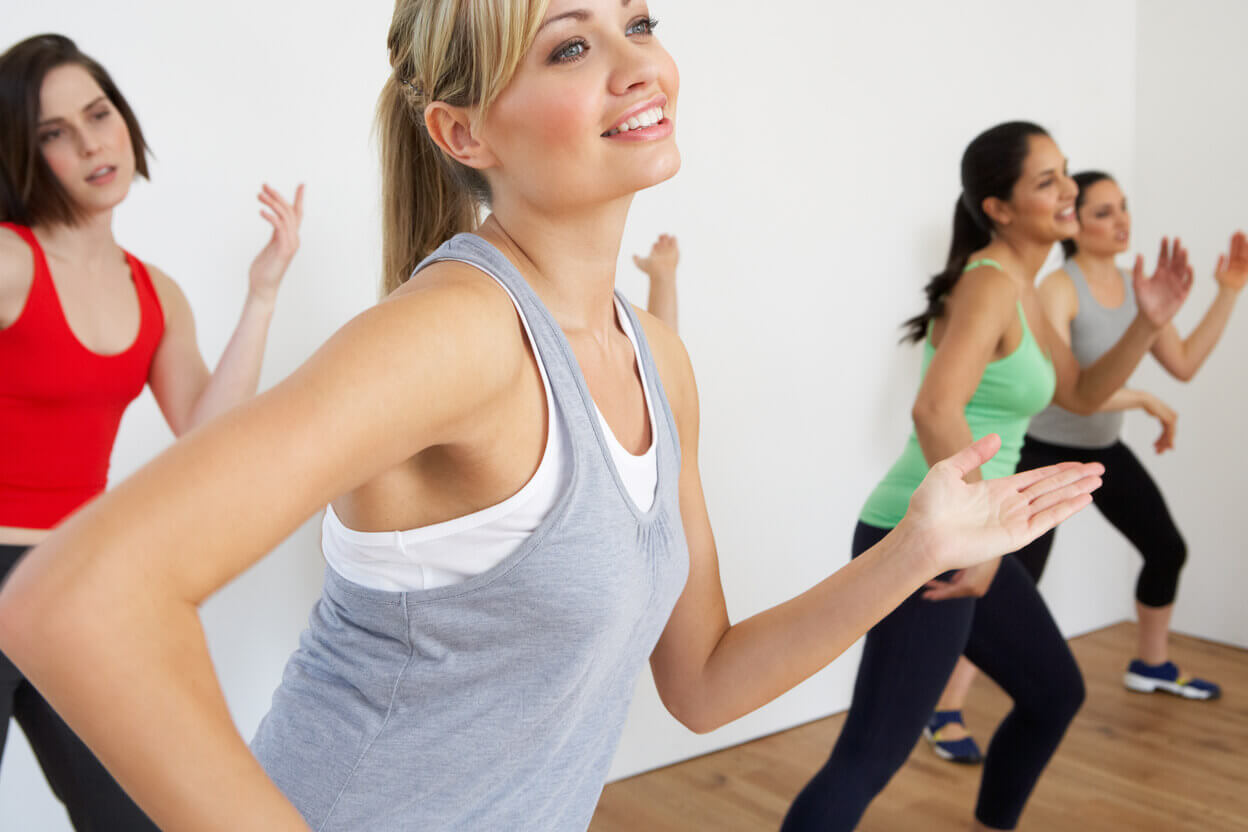 Join a Dance Class
Zumba, Pound Fitness, Step Aerobics, and Dance Fitness are all ways to dance, have fun and improve your endurance, motor fitness, and muscular strength. These classes are great to do with friends or family.
What is a Dance Exercise Class?
The difference between a dance exercise class and normal dancing is that during the exercise class, the technique and intricate choreography are not the main focus. Instead of spending months nailing a routine, members show up, follow the instructor's moves, build up a sweat, have fun, and leave feeling great! The easy-to-follow choreography aims to keep members' heart rates up so that they get the full benefit of the dance class.
Why do

Dance Classes?
Now that we know what dance exercise is, what are the benefits of dance exercise?
Improves
Cardio Endurance
Fast-paced dance exercise is a great way to improve your cardio endurance, as you'll notice you'll have more stamina after a few weeks.
Aids Functional
Fitness
As dance requires you to move through different motions, it is a great way to help your functional fitness, which helps the body perform everyday tasks with free injuries.
Reduces
Stress
Dance workouts can sometimes just be pure fun. As you have to follow an instructor to go through the motions, it means you are always present at the moment and can take your mind off all your stressors.
What Types of


Dance Classes are Included
We offer a wide range of dance exercise classes. Please check your individual class timetable to see if that class is in your location.
What Other

Members

Think
Find out what other members have to say about Gym Plus!
Zumba is such fun; you smile from beginning to end, the instructors are great, and they are full of enthusiasm.
I love music and dancing; I feel so energised after a class. It's great fun and a good way to keep fit
My favourite thing about Gym Plus is the atmosphere, all the equipment that's here and the classes are so helpful. The trainers and instructors are amazing and will help you throughout your session every single day.
Book a Tour

Today!
Want a sneak peek into one of our clubs before you decide? Book a tour today, and one of our friendly staff members will show you everything we have to offer, along with answering any questions you may have.