What to eat in October: Seasonal Tasty & Nutritious Recipes
Our resident Nutritional Therapist, Alex Dobbs, gives us some delicious and healthy meal ideas. 
Breakfast : Boiled Egg With Smoked Salmon On Brown Bread
Why I love this breakfast? Eat breakfast like a king … this super tasty meal has everything you need to get you off to a good start to the day: high in protein which will digest slowly and keep you going until lunch and feeds your immune system, high in good Omega 3 fats to boost brain health, and a massive Vitamin D boost early in the day. The fresh vegetables help rehydrate you after the night, and they supply more than a dash of vitamins and minerals. Add to that some slow-digesting carbs and excellent fibres from high-quality brown bread such as rye sourdough or 100% whole wheat.
Top Tip: Add a glass of fresh water to rehydrate you and help digestion.
Rich in: protein, Omega 3 fats, Vitamin D, complex carbs, water
Energy: 300-500 kcal (depending on quantities)
Recipe:
1-2 medium eggs (boil 5 minutes for a soft yolk or 7 minutes for hard yolk)
2-3 slices Smoked salmon and a slice of lemon
1-2 slices fresh brown bread or toast
A cupped handful of fresh vegetables: a few slices of fresh cucumber and rocket leaves, tomatoes, mangetout or any other vegetables you fancy.
Decorate nicely on a wooden board or dinner plate, serve with your morning coffee or tea.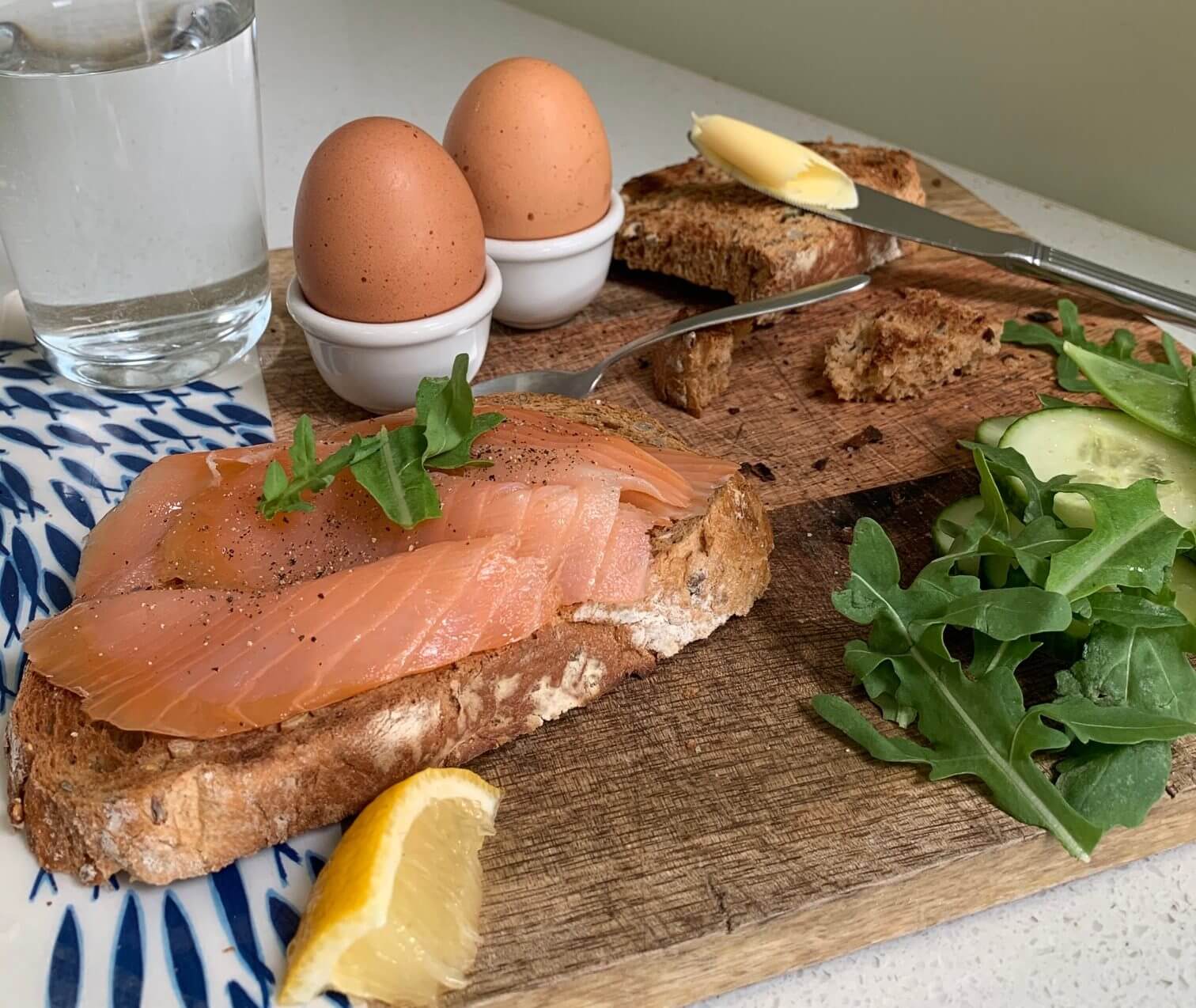 Lunch: Warming Autumn Pumpkin Soup
Why I love this recipe? I love autumn foods for their taste, rich colours, and nutrient values. I have to admit I stole this recipe from Dave and Steve Flynn of The Happy Pear – I love their idea of adding red lentils for added protein as well as sage and ginger for a bit of zing. Wonderfully warming and rehydrating. A great meal to prepare ahead and freeze.
Top Tip: This is a great warming meal. Add a slice of high-quality bread if you have a hungry day.
Rich in: Vitamin C, beta carotene, complex carbs and fibre.
Energy: 600-700 kcal
Recipe:
This recipe is enough for 4 servings and can be easily frozen in portions:
1 medium potato
3 carrots
1 medium potato
3 carrots
1 Red Kuri or Hokkaido pumpkin
1 tsp salt
1 bay leaves
1 tablespoon olive oil
100g red lentils
1 ½ l water
3 sage leaves
1 thumb-size piece of ginger
Toasted almond flakes to garnish
Chop all vegetables into similar sized chunks, add to a pan with the oil, salt and bay leaves. Sweat over medium heat for 7-8 minutes. Then add the soaked lentils and 1 l of water. Simmer for 20 minutes, add the grated ginger and chopped sage leaves. Cook for another couple of minutes before you whizz it all up with a hand blender. Season to taste and serve with toasted almonds.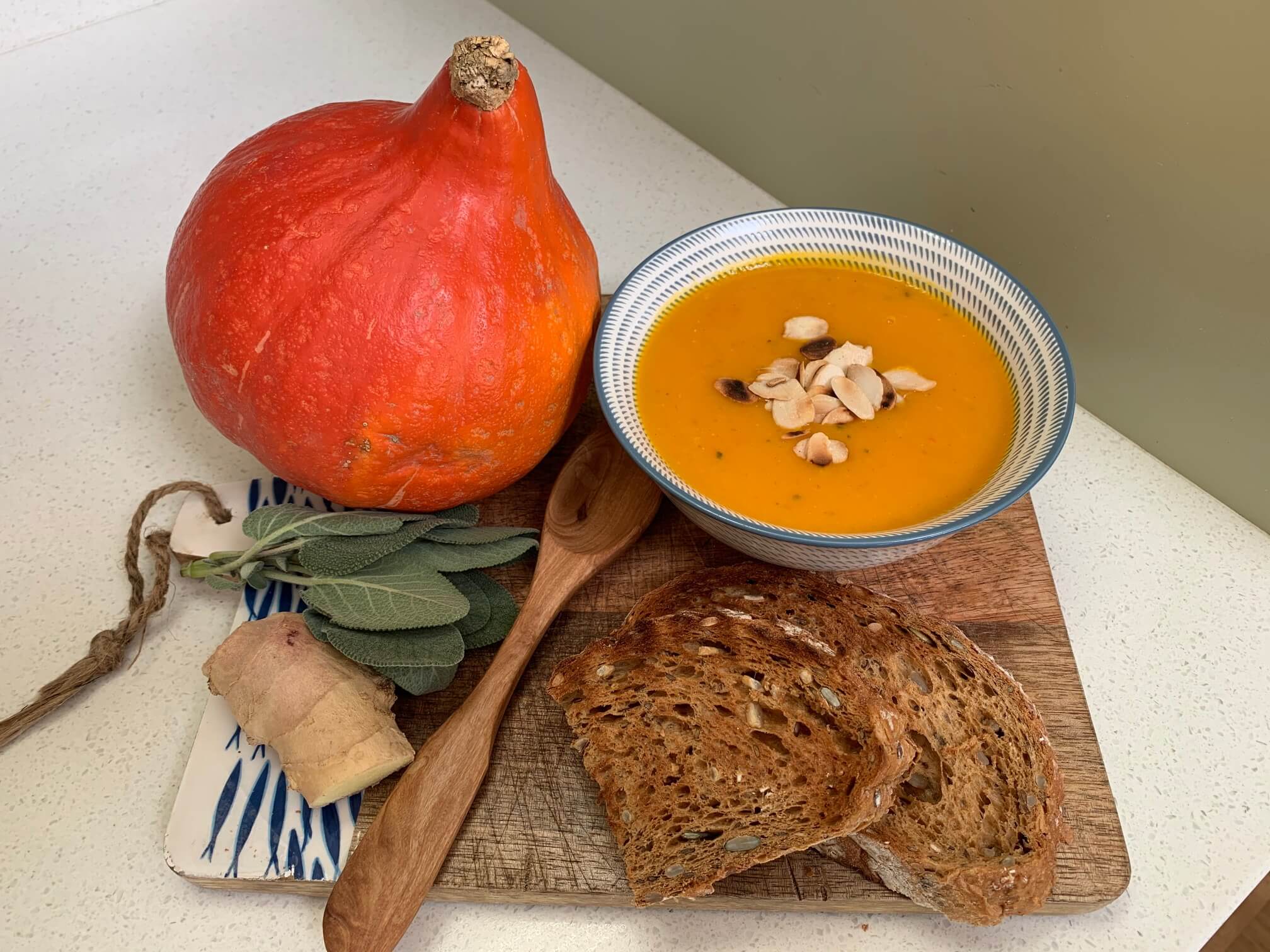 Snack : Nutty Apple Sandwich
Why I love this snack? Because it combines the awesomeness of autumn in one delicious snack! I love the apples for immune boosting Vitamins C and 17, the almonds and walnuts for their calcium and wonderful Omega fats, and the cinnamon for its positive effects on blood glucose levels and benefits for pre-diabetes and Diabetes Type 2. This'll keep you going till dinnertime.
Top Tips: eat the apple core and pips for nitrilosides, an awesome antioxidant and immune booster. And if you feel peckish, add another seasonal fruit such as plum or small pear.
Rich in: Antioxidants Vitamin C and 17, good carbs, protein and calcium.
Energy: ca 300-400 kcal depending on amount of nuts used
Recipe:
[1 serving]
1 Irish grown apple (fresh in shops now!)
1 tablespoon almond butter
1 teaspoon honey
1 cupped handful walnuts and almonds
A dash of ground cinnamon
Slice the apple into pencil-thin slices, you can go through the core and cut it out or eat it, depending on taste. Using a knife, thinly spread a layer of almond butter on half the slices. Drizzle with a little honey and some cinnamon. Stack the 2 slices like a sandwich. Serve with nuts and a glass of fresh water.
Dinner : Crispy Cornfake Chicken Dippers
Why I love this meal?
Because this scrumptious meal fakes to be a proper guilty-pleasure calorie-laden junk food but is actually a mega healthy low-calorie meal. I love it! All the nutrients from fresh green vegetables and salad potatoes will boost your energy and the lean protein in chicken will boost your recovery. This meal will tickle all the family's taste buds and will soon become a staple in your house.
Top Tip: Use enough olive oil to cover the bottom of the pan to allow the dippers to fry evenly on both sides. Discard after use.
Rich in: protein, complex carbs, vitamins and minerals
Calories: 450-550 kcal
Recipe:
[1 serving]
1 chicken breast
½ cup cooked spinach
1 cup broccoli florets
½ cup frozen peas
2-3 medium salad potatoes
1 medium egg
A small handful cornflakes
A tablespoon white flour or rice flour
2-3 tablespoons oil
Method:
Heat the oil in a pan on medium heat, beat the egg with a fork.
Crush the cornflakes roughly with your hands.
Cut the chicken breast into 4 equal chunks.
First dip into flour, then egg, then the crushed cornflakes, add to the pan to fry on both sides in low to medium heat.
In the meantime, boil or steam the potatoes, broccoli, peas and spinach.
Serve and season with salt or pepper as desired.