Scared of the gym? Five ways to overcome your fears, fast!
Understanding your motivation and building your willpower to go to the gym is one thing. But what if you get there and feel overwhelmed, anxious or just a bit lost?
Well you're not alone. Remember there are lots of new members who are feeling just as nervous as you are. And we understand why. On your first visit, the gym equipment can look complicated and difficult to use. It also might appear as if everyone else knows what they're doing and you don't know where to begin.
So how do you overcome that fear of the gym? In our last blog post we outlined some practical ways to trick your brain into loving exercise and strengthening your willpower over time. Here we take a look at ways to overcome your fears of the gym and help you feel confident and comfortable fast….
1. Book a fitness assessment
If your gym offers a free fitness assessment as part of their service, make sure to avail of it when you first start. The assessment is conducted by a member of the gym's fitness team, who will measure your overall current level of fitness and help you set long and short terms health and fitness goals.
Each health and fitness programme is tailored for the individual and will contain a comprehensive workout guide. The assessment is an essential part of your fitness journey.  It will help guide your progress, lower your risk of injury and ultimately keep you motivated to attend.
The assessment also plays an important role in reducing your fears of the gym. The trainer will put you at ease during your first consultation and teach you how to use the equipment. They will give you an achievable but challenging goal which will helping you to develop a new fitness routine. 
At Gym Plus every member is entitled to free unlimited fitness assessments with a trainer to help you track your progress.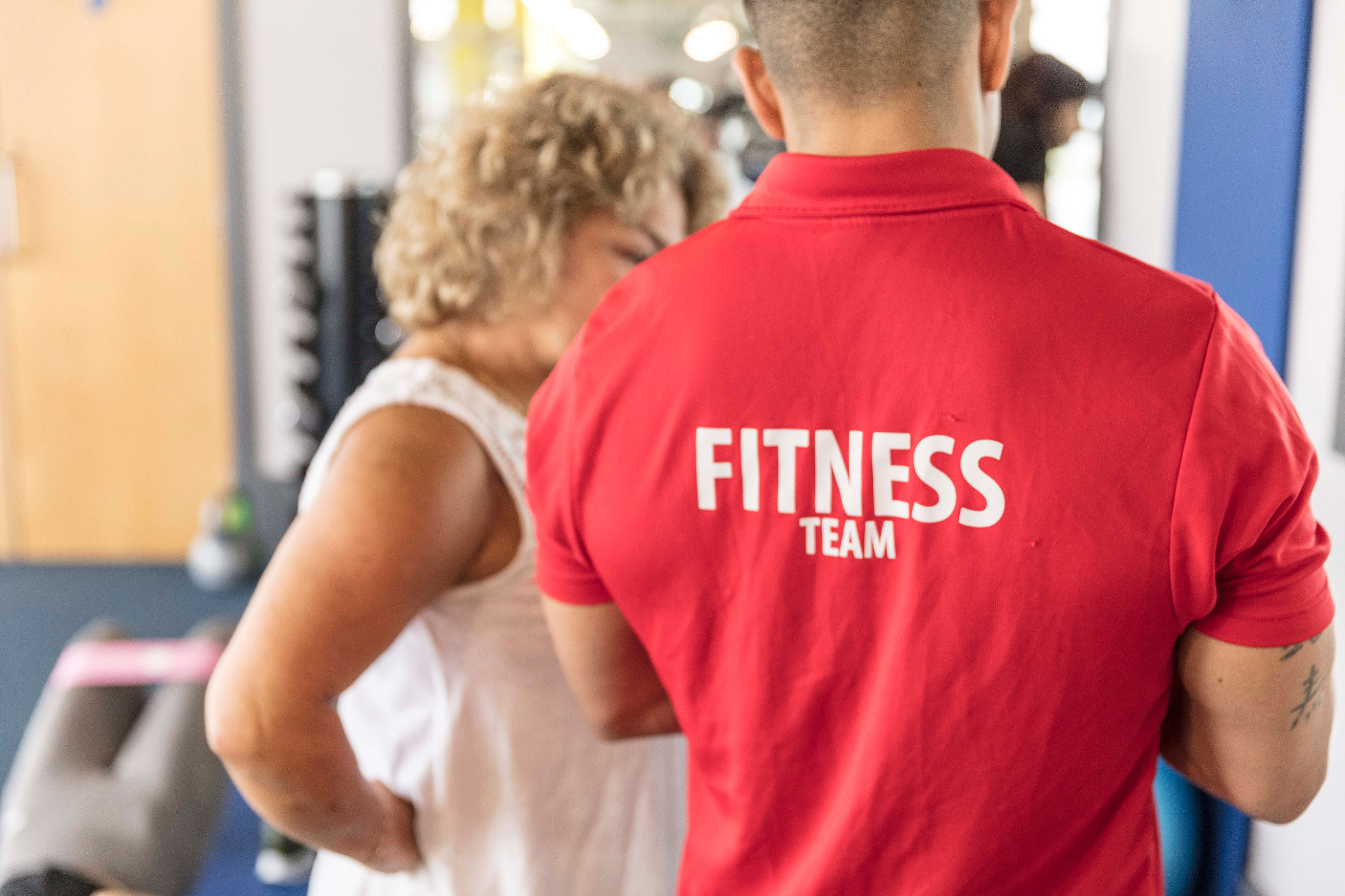 2. Prepare for your gym session
Before you head to the gym, take some time to prepare for your workout. Think about what you want to achieve before you jump into your workout and make sure to bring your fitness programme with you. 
Having a plan will help you stay focused throughout your workout, which will in turn make you more confident. It will also help you to maximise results and you will thus achieve your goals quicker.
Also, plan out what you will wear to the gym. Having the appropriate clothing and footwear can help boost your confidence in the gym. It will also help you to work out more efficiently and wearing the proper supportive footwear will reduce your risk of injury.
Furthermore, always warm up before you start, pre-hydrate adequately and have your water bottle and sweat towel with you. Being prepared will help to put your nerves at ease. 
3. Stay Focused And Block Out Distractions
For some, the gym environment can be perceived as a big open space that is intimidating at first glance. For others who feel uncomfortable in social situations, it can be a place filled with lots of strangers and the experience is over-stimulating. So how do you overcome this fear?  The trick to making the gym feel like your own personal space, in addition to having your plan in hand and your goal in mind, is to focus on your workout and block out distractions. 
An excellent way to do this is to listen to music. Music has been proven to boost energy during exercise and stimulate the part of your brain that controls movement. This in turn helps you move more efficiently. So invest in some in-ear headphones or ear-buds and make a playlist of  up-tempo, high energy song with repetitive beats.
Another tip is to visit the gym during non-peak times. Avoiding the busiest times can also help you overcome your initial fears as you can take your time getting used to each piece of equipment and are less likely to be over-stimulated.
4. Join A Group Class
For some people, their fear of the gym is a fear of not being fit enough to take part in the classes and a fear of embarrassment. However there are a variety of classes on offer to suit different ages and fitness levels. The key to overcoming this fear is to pick a class that is suitable for 'beginners', or is at 'level 1.'
Always have a quick chat with the fitness instructor before starting a new class and let them know you are a beginner. They will put your mind at ease and keep an eye on you during your first classes, giving you tips throughout. They may tailor some of the exercises to your level if needed and won't push you too far until you feel comfortable. They are there to help you with your fitness goals and want to see you return each week. You will be amazed at how quickly your body adjusts to the new exercise and within a few sessions you will begin to feel fitter, strong and/or more flexible.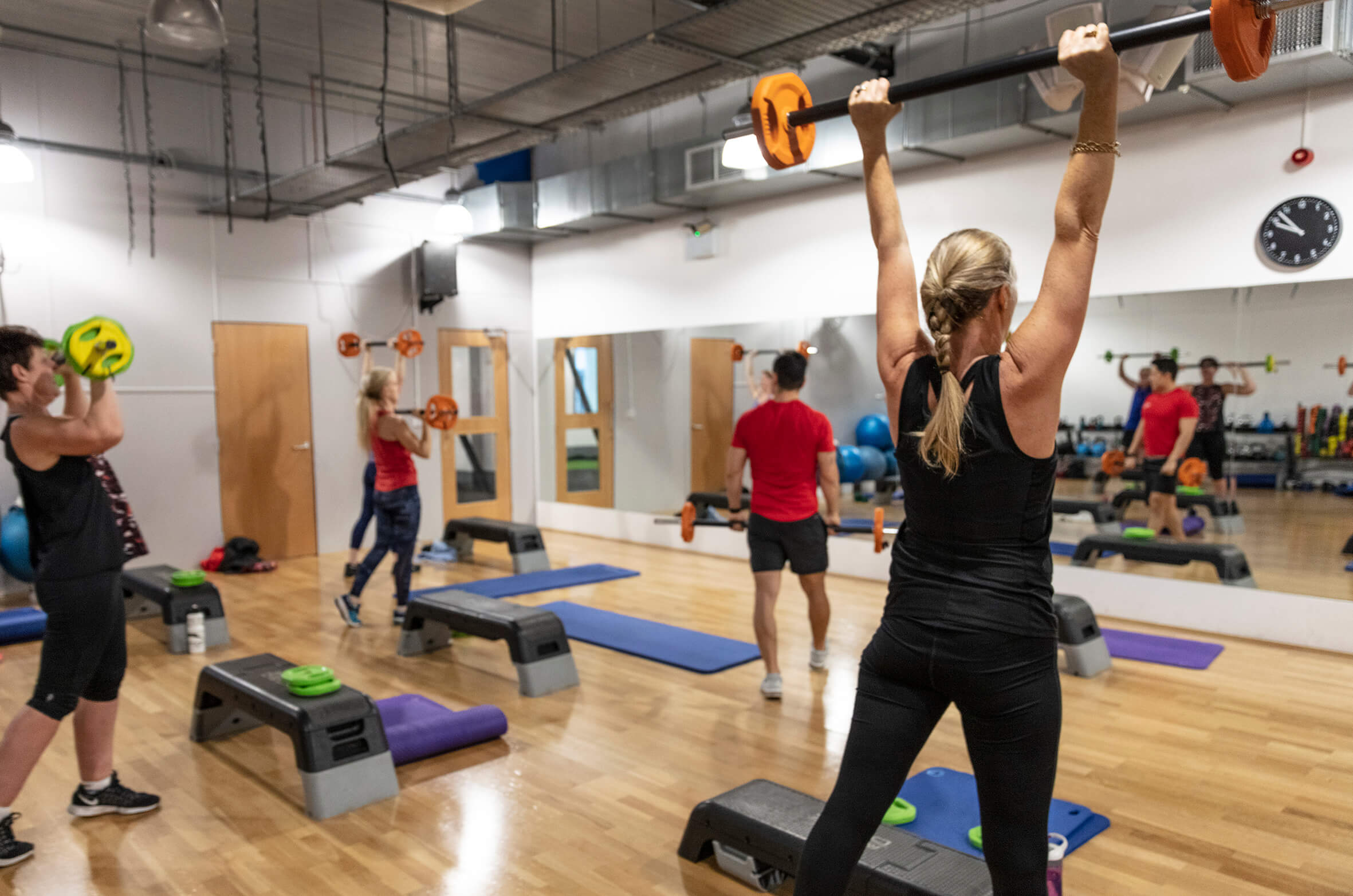 5. Create A Support System
This one is perhaps the most important tip when it comes to overcoming your fear of the gym. Tell your friends and family about your fitness plans so they can give you the support and motivation you need. Research has shown that people who have a good support system will be more successful in reaching their goals compared to those who did it alone.
If possible, get a gym buddy, someone who has similar goals as you and will hold you to account as well as cheer you on. This person may be a friend, work colleague, family member or someone you meet at the gym. Having a good support system is one of the best ways to reduce your fears of the gym. It will help you to focus on your goals and push those negative thoughts to the back of your mind.
If you have recently joined Gym Plus and are looking for motivation to kick off your new health and fitness programme, get in touch with us today. We can schedule your first 1:1 fitness assessment and create a personalised plan for you.
Or if you are looking to become a member this month or next, if you will receive a free gym bag and sweat towel to help you be fully prepared for your fitness journey. Want to try us out first? Download a free guest pass here.