HIIT Hybrids: Smash Your Fitness Goals
What is HIIT?
HIIT (high-intensity interval training) is a cardiovascular exercise that switches up between short periods of intense exercise with fewer recovery periods. It is a form of exercise where you will exert maximum effort in quick bursts followed by short recovery periods.
Benefits of HIIT
HIIT has been shown to reduce the fat mass of the whole body as well as improve muscle tone and maintain weight. It can also boost cardio-respiratory health and metabolism in a shorter time period.
Another proven benefit of HIIT is it can boost your metabolism, meaning your body continues to burn calories long after your workout has finished. And it is suitable for people of all fitness levels. 
HIIT Goes Hybrid
HIIT has been a fitness trend every year since 2014, when it first hit the number one spot. And according to the ACSM Fitness Trends Survey, it is ranked as one of the top 3 fitness trends of 2019.
Over the years HIIT has evolved from a boot camp style programme that focuses on squats, planks, burpees and sprints to being fused with other types of workouts. These include aqua exercises, pilates, yoga, boxing and indoor cycling to name a few. 
In line with the rise in popularity of HIIT, gyms are offering hybrid HIIT classes as members aim to maximise their performance in a shorter time period. With some classes combining aerobic and resistance training. A HIIT hybrid class is perfect for those with busy schedules, who enjoy working out in a group or for those simply looking for a new challenge. Let's take a look at some of these HIIT hybrid classes designed to help you smash your fitness goals and make your workout more fun……
HIIT Hybrids
1.  Aqua HIIT
If you're looking to achieve near-maximum effort while minimising stress on your joints, take your HIIT workout to the pool. The water buoyancy allows you to move with less impact on the body. In addition to providing a naturally higher resistance than air which provides a great cardio challenge.
One such 20-minute aquatic HIIT routine consists of:
Warming up by running in the pool in a circle

45 seconds of high-intensity work followed by 15 seconds of rest

Each set consists of star jumps, split jumps and high knees

Perform each exercise one after the other for 3-5 sets depending on your fitness level
And remember to have your water bottle at the side of the pool to help you hydrate as you will be sweating!
2. Boxing HIIT
Boxing is a high energy, high-intensity workout that is a great way to reduce stress while having fun. In addition to calorie burning, boxing for fitness is a great way to improve your strength, endurance, agility and balance. It can help you sculpt muscles you didn't know you had!
And you can now get a fantastic boxing HIIT workout in 30-minutes by performing all the boxing moves followed by active rest, walking for 60-90 seconds, before returning to the circuit. A circuit might include:
Jump rope or burpees, squats, planks

High knees and uppercuts

Alternating left/right hook

Alternating left/right jab cross
Also, exclusive to Gym Plus Ballsbridge, the Beau Jacks Boxing class will get you burning serious calories with a combination of high-intensity intervals and boxing drills. Learn more about Beau Jacks Boxing.
3. Pilates HIIT
Pilates has so many benefits, including improving body strength and tone, as well as flexibility, mobility and posture. But a pilates-inspired HIIT workout can also get your heart racing and help you burn serious calories.
Try this pilates HIIT workout:
Warm up for 1 minute doing jumping jacks

Get onto the mat and onto your elbows to hold a plank position for 1 minute

Do mountain climbers, tri-cep push-ups, speed skaters for 1 minute for each exercise focusing on keeping your core muscles strong

Then move into standing pilates

plié for one minute followed by more jumping jacks, plank jacks and a pilates stretch to cool down.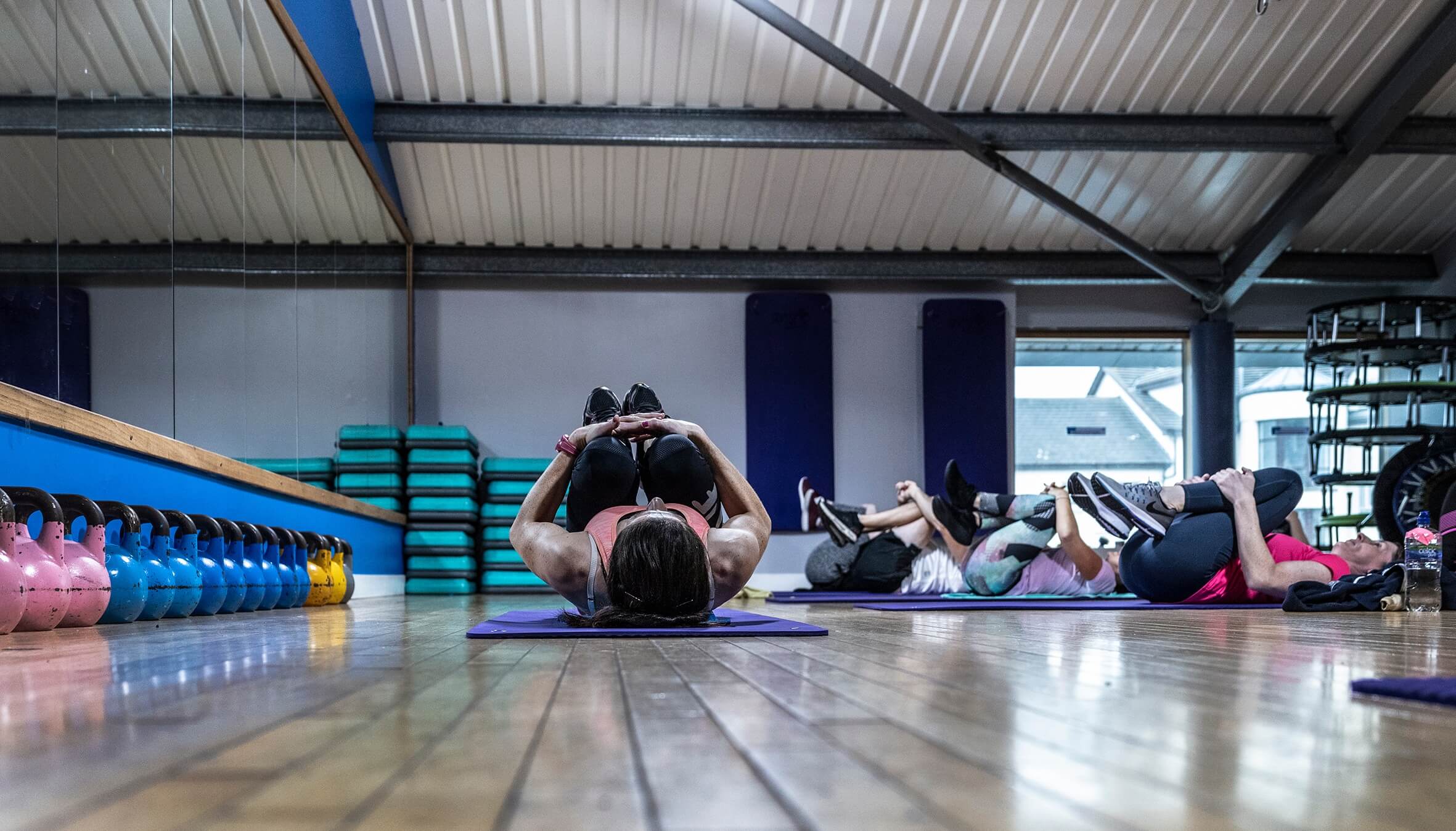 4. LES MILLS VIRTUAL SPRINT
™
If you're looking for an exercise that will improve your cardiovascular fitness,  burn calories and tone your legs, then LES MILLS VIRTUAL SPRINT is what you've been looking for.  
LES MILLS SPRINT™ is a 30-minute virtual HIIT workout, using an indoor bike to achieve fast results. For cycling beginners, the indoor bike is a great way to get started as it's a low impact workout that doesn't damage your joints. And in that 30-minutes you can expect to burn approximately 450 calories, with the calories burning long after the workout wraps up. 
This short, intense style of training where the thrill and motivation come from pushing your physical and mental limits. The focus mixes between sprinting, power training and strength building. A high intensity, low impact workout that is scientifically proven to return rapid results. And this is the perfect HIIT class for anyone who may have orthopaedic restrictions, as it allows you to push your heart rate to the max without any risk of injury. 
Check out the LES MILLS VIRTUAL SPRINT classes at Gym Plus, where we run regularly scheduled classes throughout the day.
When you become a member of Gym Plus you will receive a personalised fitness programme that incorporates HIIT aerobic and resistance training exercises to help you achieve your fitness goals faster. You can also try any of our HIIT hybrid classes to help you reach your goals faster in a fun, energetic group environment. Try us out for free, download your guest pass HERE.