The Big Hunt : 5 Easy Swaps For A Healthier Easter
With Easter upon us and a soon-to-be houseful of chocolate eggs, it can be hard to stay on plan and resist all the treats. And we hate to state the obvious but most of these eggs and other Easter treats are packed full of high sugar content. Which has no nutritional benefit and can disrupt your healthy eating plan.
And although consuming a small amount of sugar over Easter isn't going to undo all your good work, bingeing over the weekend is a bad idea. The reason? Your body can take days and up to a week to fully recover from a sugar overdose. It can even affect your brain function and the body's immune system and lead to a significant body fat increase in a short amount of time. It can also upset your digestive system and interfere with the absorption of other nutrients into your blood stream. 
If you feel that 'sugar high' after eating a lot of chocolate or sweet treats, your body is, in fact, experiencing a spike in insulin. And this is inevitably followed by a sugar crash when your glucose levels fall, which can leave you suffering from fatigue, anxiety, headaches and hunger. Furthermore, it often means you're not eating enough protein and fibre, which are essential nutrients for sustaining energy levels. And all of this can have a knock-on effect on your fitness routine, as you may struggle with low energy to exercise. 
But fear not, there are plenty of ways you can still enjoy the celebrations and maintain balance with your sugar and saturated fats intake. Here we outline some easy and delicious Easter menu swaps…
1. Breakfast of Champions
Over Easter it is especially important to eat a nutritious breakfast that will make you feel full for longer. This will help you lower your cravings for sugar later in the day as well as avoid overeating at dinner.
Eating a good breakfast has been proven to help you sustain a healthy weight. Examples include porridge that releases energy slowly throughout the day and keeps your blood sugar balanced. Try it with semi-skimmed milk and avoid adding sugary toppings to lower your sugar intake.
Alternatively, if you love your traditional Sunday full Irish then try making some simple changes to transform it into a healthier breakfast. Baking or grilling the food instead of frying can reduce the fat content a lot. Or substitute meat for veggie sausages instead.
And add avocado, spinach, mushrooms, beans, tomatoes and sourdough instead of your regular items to keep you feeling fuller for longer while ensuring you get your protein.

2. Healthy appetisers
If you are asked to bring a starter to an Easter celebration or if you're hosting one yourself, try this tasty low-fat hummus dip. Always a tasty crowd pleaser and the perfect starter for sharing, this red pepper hummus recipe is naturally low in fat. And it contains lots of vitamin C, which helps to protect your immune system. Add some sticks of celery, carrots, bell peppers, crispbreads or wholegrain chips to make it a super healthy Easter starter.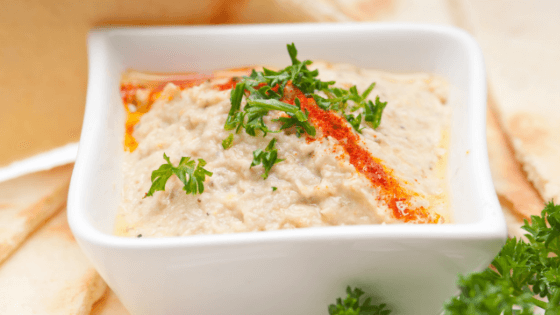 3. Healthier Roast Dinner
The Easter roast dinner has become a tradition in many families and meat is an excellent source of protein. But why not try swapping meats high in saturated fats, like lamb or beef, for leaner meats. By eating chicken or turkey you can save up to 250 kcal, 30g of fat and 16g of saturated fat. Reduce your saturated fats intake even further by using vegetable oil or olive oil instead of real butter.
Furthermore, why not try serving healthy roast potatoes this Easter too. Potatoes are full of vitamin c, calcium, magnesium and fibre. However, they are starchy which can cause your blood sugar levels to spike. Even though they are classed as complex carbohydrates. Our top tip is to serve a mix of roast and boiled potatoes and consume reasonable portion sizes – your carbs should be approx. quarter size of your dinner plate.  Also, parboil your spuds before roasting so they absorb less fat and use unsaturated fat to glaze them like olive oil. 
And remember to add lots of veg to your Easter dinner. As a rule, your veg including potatoes should make up half of your dinner plate.
4. Sugar-Free Carrot Cake
If you're hosting an Easter Sunday brunch or going to visit friends and family, this is a fabulous alternative to high-sugar store-bought cakes, sweets or chocolate eggs. This sugar-free carrot cake tastes delicious, takes only 1-2 hours to make and serves 10-12 people. It is a moist but fluffy cake, that's considered a healthier choice at only 277 kcal per portion.
Ideal to enjoy with some tea after your Easter dinner. Add a zingy orange cream-cheese frosting for a very delicious healthy treat. Recipe HERE.
5. Low sugar easter eggs
If you're looking for a lower sugar egg to give as a gift this Easter or for yourself, there are a couple of options available that we recommend. And when we talk about 'low sugar' we're referring to eggs with less than 5g of sugar content per 100g.
Firstly, this 300g Easter egg from The Chocolate Garden of Ireland for €13.95, with no added sugar, is suitable for diabetics. It will satisfy that craving for chocolate, tastes great and you won't even notice the difference from conventional chocolate.
Or look out for Tesco's finest Belgian dark chocolate and raspberry Easter egg. The raspberry flavour gives a natural sweetness to the dark chocolate enhancing the taste. 
But if you're a fan of the dark chocolate and prefer high quality, high cocoa content then this Hotel Chocolat's 100% dark chocolate hard-boiled Easter egg is for you. With as little sugar as 4.8g per 100g of chocolate, it has one of the lowest sugar contents available. It is pricey compared to higher sugar content eggs but the perfect gift for yourself or someone you know who will appreciate this healthier alternative.
Finally, we would like to wish all the Gym Plus community a very Happy Easter! And if you're determined to start your fitness journey over Easter, remember throughout April you or someone you know can become a member and get a free gym bag and sweat towel to help you get started. Sign-up for a free guest pass HERE.