New Term, New You: 5 Health & Fitness Tips To Make This Your Best Term Yet
One of the hardest parts of getting fit is finding motivation. Whatever your reason for taking up a new fitness regime, it is often a struggle to stick to a consistent exercise routine. And it's easy to see why so many of us struggle to stay motivated to exercise during this time of year. 
However, there are simple ways to combat low energy, boost your motivation and keep your fitness on track this season. Here are our top five health and fitness tips to make this term your best yet.
1. Fit More In – Create A Routine
Everyone needs the motivation and willpower to start exercising but a solid routine will keep you going and on track each week. Routine has been proven to help strengthen your physical and mental well-being.
Steps to creating a successful exercise routine:
Determine how much time you can devote to exercise – spend time working out how much free time you have and what time of the day suits you best. It may be one hour three times a week or a half hour every second day. Decide what you can fit into your lifestyle and around other commitments.

Next, write down your fitness goals – do you want to lower your body fat percentage, get stronger, train for an event or master a new skill? Having specific goals will keep you on track, allowing you to better track and measure your progress. As well as perform the right exercises to help achieve your goals.

Then think about who can help you achieve these goals? Do some research and look for the trainers, coaches and nutritionists near to you. If you are not a member of a gym, why not get a free guest pass to meet with trainers and instructors at your local gym and they can design a tailor-made health and fitness plan for you. If you are already a gym member, it may be time to schedule a progress check meeting with your trainer.
2. Try A New Exercise Class
Us humans like to learn new things. So the new term is the perfect opportunity to mix up your workout and try a new routine. If you have been doing the same workout for a while, boredom can set in. So mix it up this term!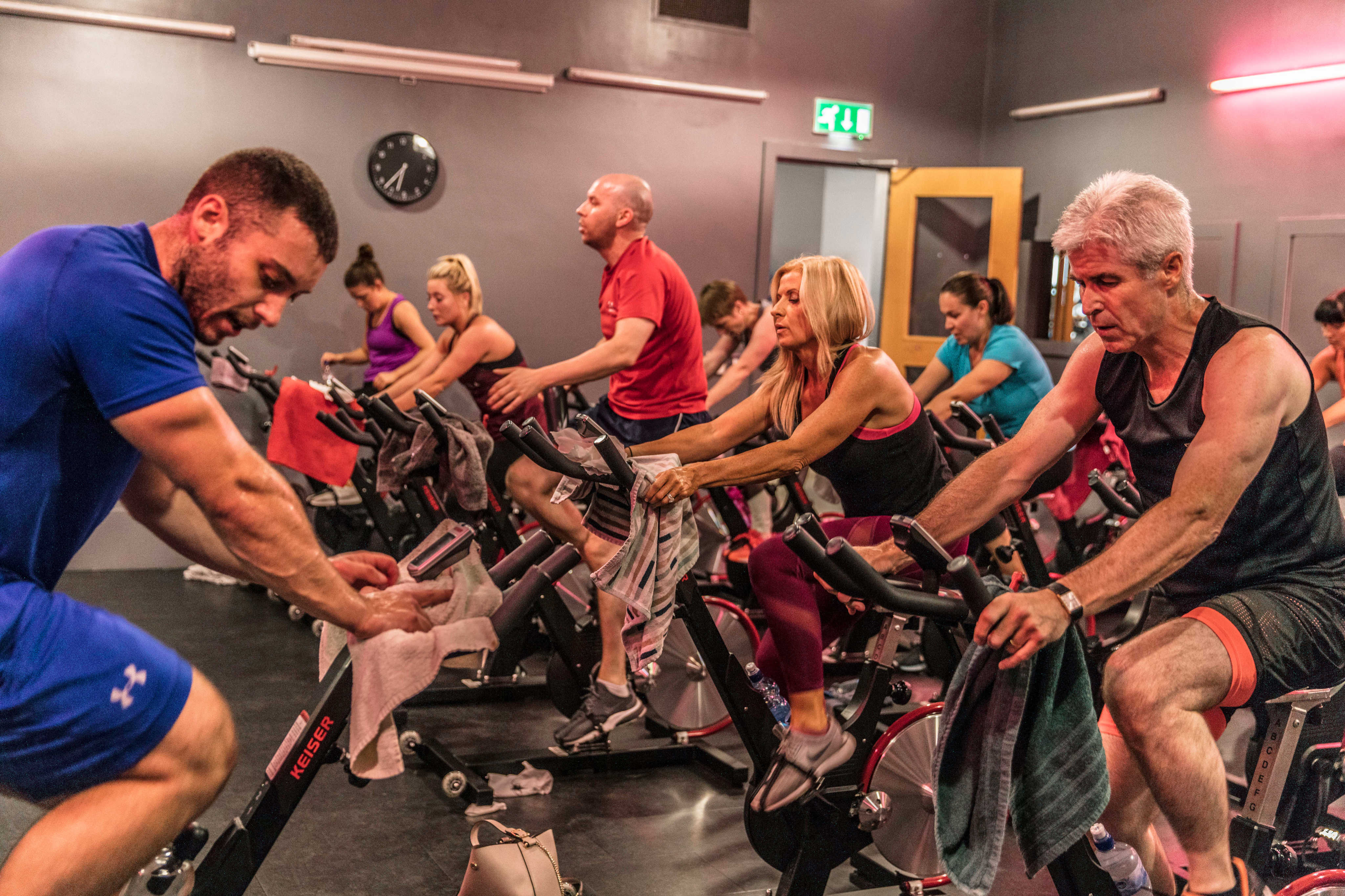 We recommend:
Trying a new class – at Gym Plus we host a range of classes you can try out.

From a fast-paced aerobic based class to the slower paced stretching, mobility and flexibility classes we have something for everyone at all fitness levels.

Mixing in new exercises such as kettlebells, fitball or spin can give you the challenge you need to progress in your fitness and also boost your mental stimulation. Yoga, pilates or stretch classes can help you build flexibility and strength while leaving you feeling centred and calm.

You can book classes and activities through our FitSense app, making it easy to plan your schedule in advance.
3. Find An Exercise Buddy
If you haven't already got an exercise buddy, this new term is the time to get one. Having a gym/exercise buddy is a great way to stay on track as you will be accountable to each other. Making a commitment to others has been proven to increase people's motivation to continue with their own fitness goals. Ask a friend, neighbour or family member if they are interested in working out with you.
Alternatively, if none are free, the gym itself is the perfect friendly, sociable environment to meet like-minded trainers and members who will support you each week.
Your exercise buddy can be that person who helps you lift weights, do circuits, join in an fitness class with or perhaps someone to challenge to a friendly swimming competition. Whoever they are, working out with a partner can push you to reach your fitness goals faster and it is also a lot of fun.
4. Be Competitive
A highly effective way to boost your motivation and keep your fitness on track this new term is through competition. This may be competing against your personal best, a friendly competition against your gym buddy or bigger challenge like entering a race, tournament or match.
Studies have shown that competition can help us to get and stay motivated to exercise as well as generate new energy when we are stalled. It can provide the focus we need to get in the gym, go for a run or try a new type of exercise. It also makes working out more exciting and challenging. Competitions can also help boost our mental stimulation as well as act as strong motivators to exercise.
At Gym Plus we regularly host competitions that everyone can get involved in. You can stay up to date on what's coming up in-club or by following us on social media.
5. Boost Your Immune System
Make this your best term yet by staying healthy. Keeping in good health and reducing the frequency and duration of sickness will help keep you on track with your fitness this term.  And the changing season is the right time to give your immune system a boost. Our advice is to:
Get more

Vitamin A

into your diet. It can help rid the body of free radicals (waste products from chemical reactions in our cells) and fight inflammation. This powerful antioxidant is naturally highest in liver and fish oils, as well as in milk and eggs.  Vitamin A can also be found in leafy green, orange and yellow vegetables such as squash, carrots, lettuce, broccoli and bell peppers.

Stock up on fruits that contain high levels of

vitamin C

such as oranges, grapefruit, strawberries, blackcurrants and kiwis. Vitamin C

can help reduce the severity and duration of colds and flu.
Vitamin B6

is another key vitamin in the protection of the body's protective barrier. Foods such as chicken and cold water fish such as salmon and tuna are rich in B6.
Other natural immune boosters include nuts, seeds and spinach that are rich in the powerful antioxidant vitamin E, as well as garlic, manuka honey, lysine and probiotics.
At Gym Plus we can help you tackle the seasonal changes and keep you active and healthy this term. New joiners to Gym Plus before September 30th 2019 will receive a quality kit bag and sweat towel as well as their membership. If you'd like to find out more about Gym Plus, come and see for yourself with a free guest pass. Pop down to try us out for free, we'd love to hear from you.