Get Summer Ready With High Intensity Interval Training (HIIT)
If you're headed for the sun this summer and you want to feel strong, confident and happy then now is the time to think about accelerating your fitness. With Easter out of the way, this is the perfect time to think about getting summer ready.
And one way to achieve great results, in a short amount of time, is by integrating high-intensity interval training (HIIT) into your workouts. HIIT is a cardiovascular exercise that switches up between short periods of intense exercise with fewer recovery periods. It is a form of exercise where you will exert maximum effort in quick bursts followed by short recovery periods.
HIIT has been shown to reduce the fat mass of the whole body as well as improve tone muscle and maintain weight. Another benefit is it can boost your metabolism, meaning you can continue to burn calories long after your workout has finished. HIIT is suitable for people of all fitness levels so we have created a quick guide to get you ready….
1. Preparation Is Key
Preparation for HIIT training is essential. It will help you to maximise your performance during this intense workout and also lower your risk of injury. During a HIIT workout, you will need to move quickly from one activity to another, so ensure you have the correct footwear. Look for shoes that won't weigh you down and will give you lateral support.
Next, always warm up your muscles for 2-5 minutes before starting. This will ensure your muscles are more elastic during the exercise, i.e. they have the ability to both stretch and contract. And greater elasticity means you are less likely to get injured.
Try doing:
Arm Circles (10 clockwise, 10 anti-clockwise)

10 Jumping Jacks or

10 Jump Ropes

20 lunges (10 each leg)
We also recommend your preparations include eating a moderate-to-high carb meal with some protein approximately three hours before you intend to exercise. In addition, pre-hydration is very important. We recommend drinking:
17 to 20 ounces of water 2 to 3 hours before exercising
Another 8 ounces during your warm-up (or 20 to 30 minutes before exercising)
2. Embrace the intensity
The word intensity may sound intimidating for some people when they first consider HIIT. But the purpose of high-intensity interval training is to get your heart rate up high so that the body continues to burn calories for hours after the workout. And to do that you need to exert near to maximum effort in a 20-30 minute time period. 
And yes, it will make you feel uncomfortable but after each activity, you will get a short recovery time. So embrace the challenge, feel the burn but don't overdo it. Ask your instructor to make any modifications at first and keep an eye on your heart rate with a monitor. Start out with one session per week and build your frequency from there.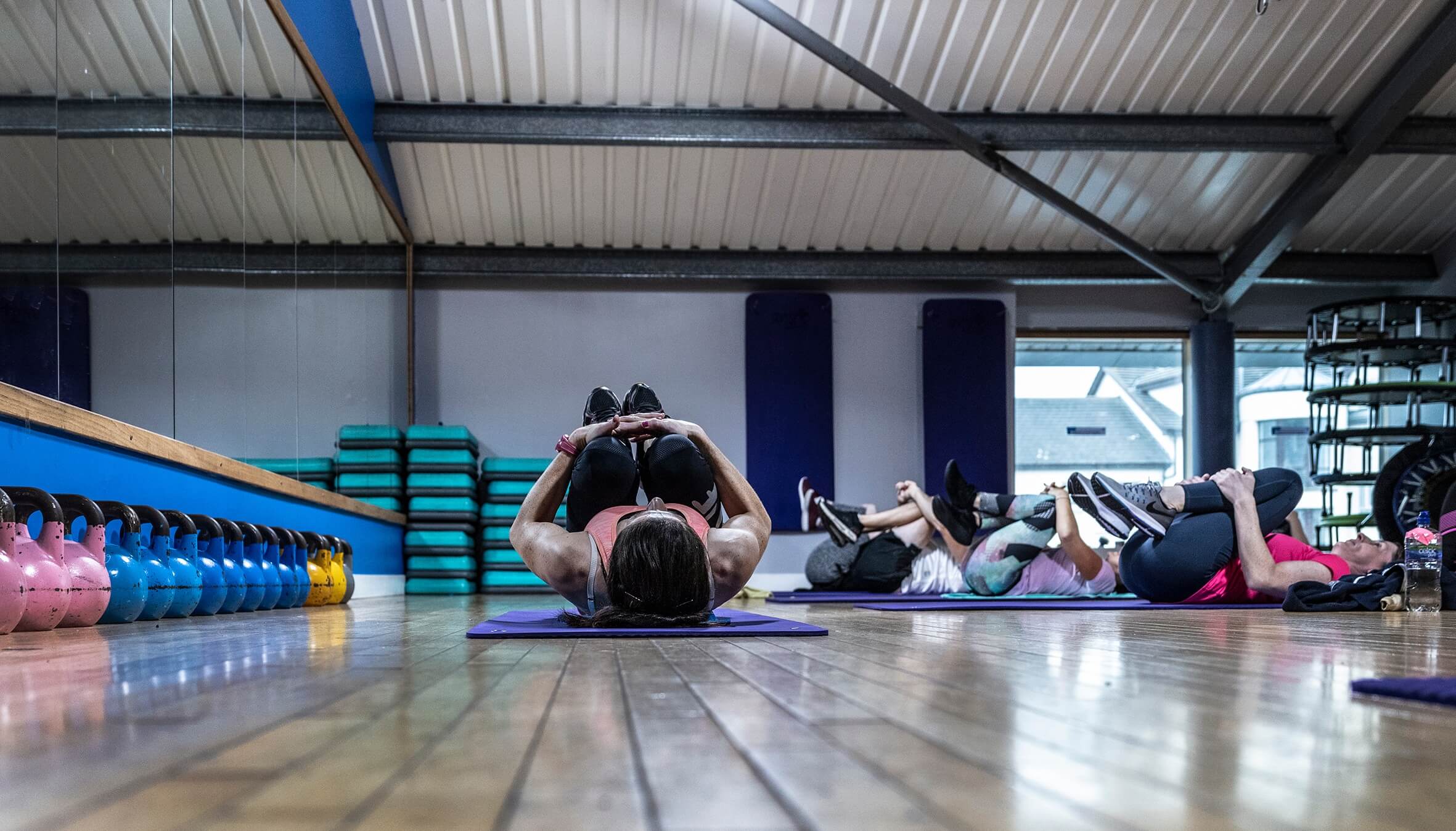 3. What are HIIT Exercises?
So what should you expect during a typical HIIT circuit? Exercises may include burpees, rope jumps, jump squats, planks and push-ups. An example of a 4-minute HIIT circuit workout:
Mountain climbers:

1 set, max reps in 20 seconds (10 seconds rest)

Knee-high jog:

1 set, max reps in 20 seconds (10 seconds rest)

Bodyweight squat:

1 set, max reps in 20 seconds (10 seconds rest)

Burpee:

1 set, max reps in 20 seconds (10 seconds rest)

Mountain climbers:

1 set, max reps in 20 seconds (10 seconds rest)

Knee-high jog:

1 set, max reps in 20 seconds (10 seconds rest)

Bodyweight squat:

1 set, max reps in 20 seconds (10 seconds rest)

Burpee:

1 set, max reps in 20 seconds (10 seconds rest)
4. Expect The Afterburn Effect
Still feeling the effects of your workout long after you finished? As a beginner to HIIT expect to feel warm and sweaty throughout the day as your body temperature cools the heat gathers in your muscles, causing your blood temperature to rise.
Even eight hours later, your metabolism is still looking to process fuel you put into your body. So you might feel more hungry than you usually would at this time of day. If you train regularly, this is the perfect time to fuel your body with carbohydrates for recovery and hydrate properly.
If you are new to HIIT remember it can take your body 2-3 days to recover from one session, so don't overdo it. As stated above, we recommend starting with one class a week and building the frequency of sessions over time.
5. Types of HIIT classes
A great way to get started with HIIT is to take a class and learn how to perform the exercises using the correct technique and form. It's a great way to fit in a workout before work or on your lunch break. And you will never get bored, as instructors are constantly changing exercises to push you harder and motivating you to work toward using your max effort.
There are lots of classes available that you can take to perform HIIT. At Gym Plus we offer classes like: 
Bootcamp :

A jam-packed class packed with dynamic body-weight exercises that bring together strength, cardio and plyometrics.
Xfit :

Each session utilises aspects of cardio, plyometric exercises and strength training that help you burn serious calories while sculpting and strengthening the body.

Circuit Training:

These classes offer you a diverse set of exercises that are split between cardio and strength training, offering you a full body conditioning workout in a very short space of time.
If you need help losing or maintaining your weight, at Gym Plus we can help. All members will receive a personalised health and fitness plan in addition to unlimited fitness assessments to help keep you on track. Firstly, why not get your free guest pass HERE.