Child's First Swim Lesson: What To Expect
Learning to swim is not only a lifesaving skill that one acquires for the rest of their lives but also an enjoyable experience that enables children to become more confident in and out of the pool. Children are usually cautious and sometimes reluctant to try new activities. And the idea of being around strange adults can be daunting for some.  Many seek the approval of their parents to let them go and join a new group of people.
That's why the role of the teacher and everyone at the facility is so important when the child first comes to the pool.
How to ease that first feeling of lesson time?
Perhaps a week or two before the beginning of the first lesson the child can be:
introduced to the pool hall
shown what's going on during the lesson
explained where their parents will be while they are in the water
shown who is going to be their teacher
be familiar with the place, other classmates, etc.
On Lesson Day
On lesson day, the receptionist will welcome you and show you again where the changing rooms are and lead you to the pool hall.
You will be asked to arrive at the pool deck 5 minutes before the beginning of the lesson. A pool attendant will show you where your child's lesson will take place and the designated area for parents to watch and wait. Then the teacher will welcome your child.
Other children might have been attending that class for a number of weeks already. New children joining in will be gently introduced to their peers, activities and games, and given space and time if yet not keen to participate but still always encouraged to join in when they are ready to do so.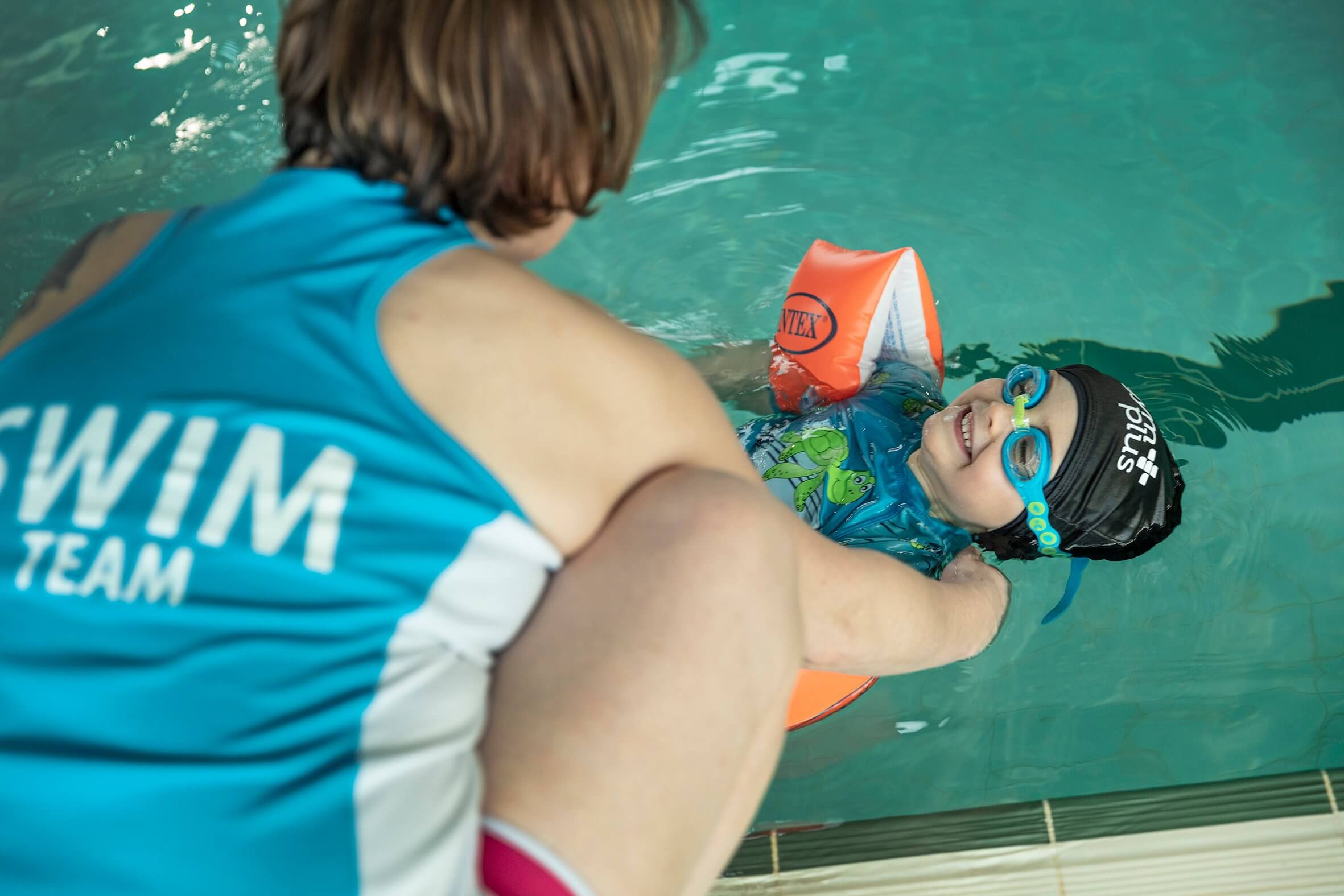 First Swim Lesson
This first lesson is a crucial time for children.
Teachers will always focus on positive experiences. Even if it takes a few lessons for the child to trust them and feel comfortable in the water environment. The key to a successful lesson is that children learn through play and enjoyment. And to make sure they look forward to coming back for their next class again.
Communication between parents and teachers is also important. If there's anything a teacher must know about the child, this must be communicated in advance of the lesson  (impaired physical or mental abilities, anxiety or previous experiences in water, etc.). And be assured confidentiality will be paramount.
Again and above all, learning must always be focused on fun and positive experiences and that children look forward to meeting their peers and teacher again.